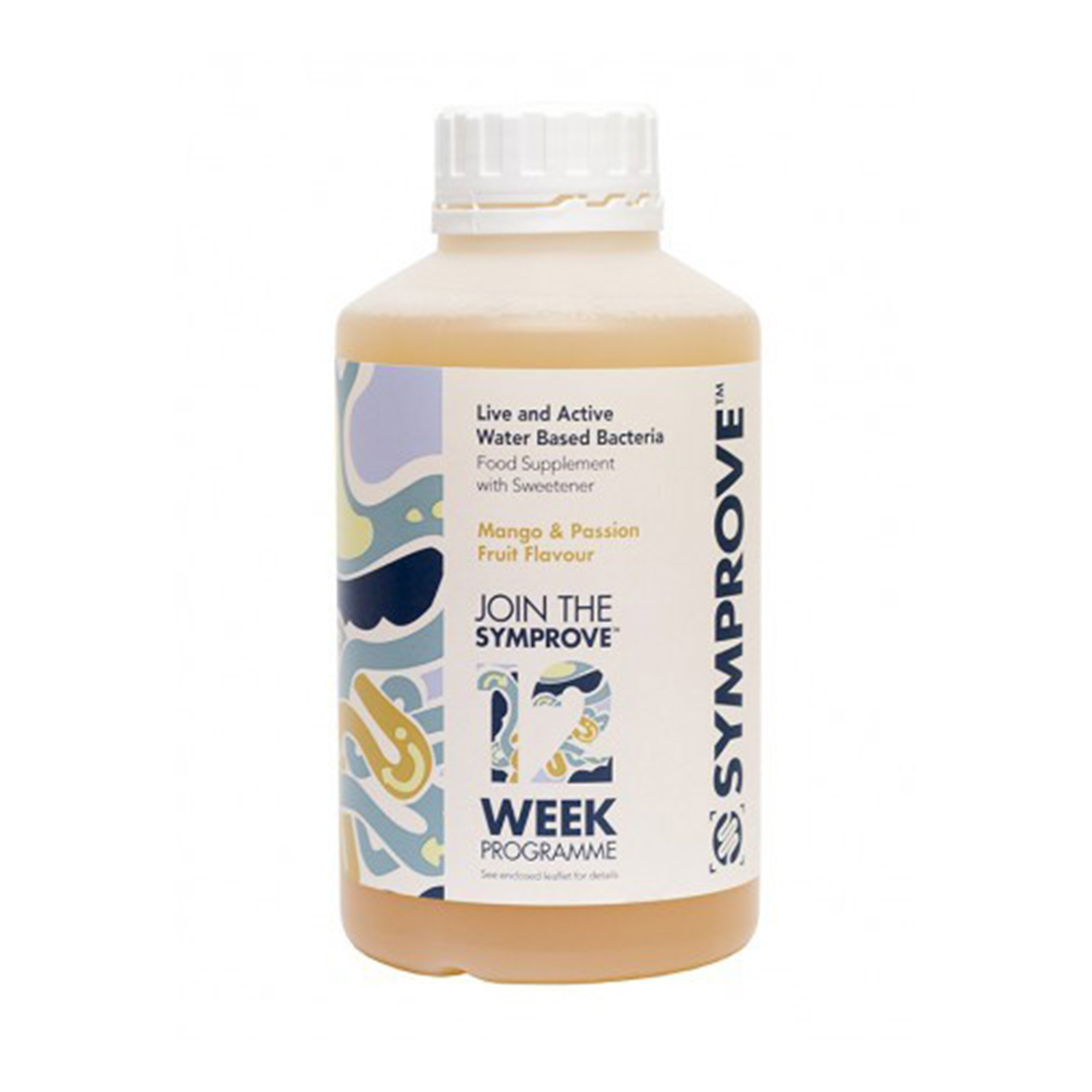 Symprove® Mango & Passion Fruit – 4-strain water-based probiotic supplement
$89.99
4 x 500ml Liquid
Please note, due to the weight of this product there is a shipping surcharge that is calculated in your cart based on your shipping destination.
Symprove is a water-based multi-strain supplement containing 4 unique strains of live activated bacteria:  L. rhamnosus, E. faecium, L. acidophilus, and L. plantarum.
To ensure your package arrives before Christmas, the cut off date is: 06/12/23 
In stock
Description
Symprove – Small Change Big Difference
Live and Active, Water based Bacteria. Food Supplement
Mango and Passion Fruit Flavour – 4 week pack, 4 x 500ml
Symprove's 12 week programme.
Symprove's unique water based formulation effectively survives stomach acid so it can deliver live bacteria straight to the gut, where it can thrive and multiply. Achieving balanced gut bacteria doesn't just happen overnight – independent published research has shown it takes time and commitment.
Join the Symprove programme for 12 weeks to help support the balance of gut bacteria. Once completed, continue the support with our single bottle maintenance pack.
Non Dairy & Gluten Free. No Added Colours
Nutrition Information Per 70ml %RI
Energy 4kcal / 18kj
Protein <0.5g
Carbohydrate 0.9g
Fat <0.5g
Vitamin C 185mg = 231% RI
*%RI = %Reference Intake
Storage: Store in a cool, dry place, away from children. One open, store in the refrigerator. Do not freeze.
Food supplements should not be used as a substitute for a balanced and varied diet. Do not exceed the recommended dose.
Ingredients: water, extract of germinated barley, live activated cultures of: L. rhamnosus, E. faecium, L. plantarum, L. acidophilus; vitamin C, acidity regulator; trisodium citrate; preservative: potassium sorbet; natural flavourings, sweetener: sucrolose.
Instructions: Shake the bottle gently before use. Take 1 full cup of Symprove every morning 10minutes before you eat or drink. The cup is included in the pack.
Designed to deliver approx 10 billion colony forming units (CFUs) per cup.
IMPORTANT NOTE:
This product contains live bacteria; accordingly it has a short shelf life and should be consumed soon. The expiry date is shown as day, month and year on the packaging; however if this product is kept in a fridge it can last up to 3 months longer. If you need to reorder, then please do so when you open your second bottle, that way you should always have a container in the fridge available.
Reviews
This product doesn't have any reviews.
Leave a review
Only logged in customers who have purchased this product may leave a review.