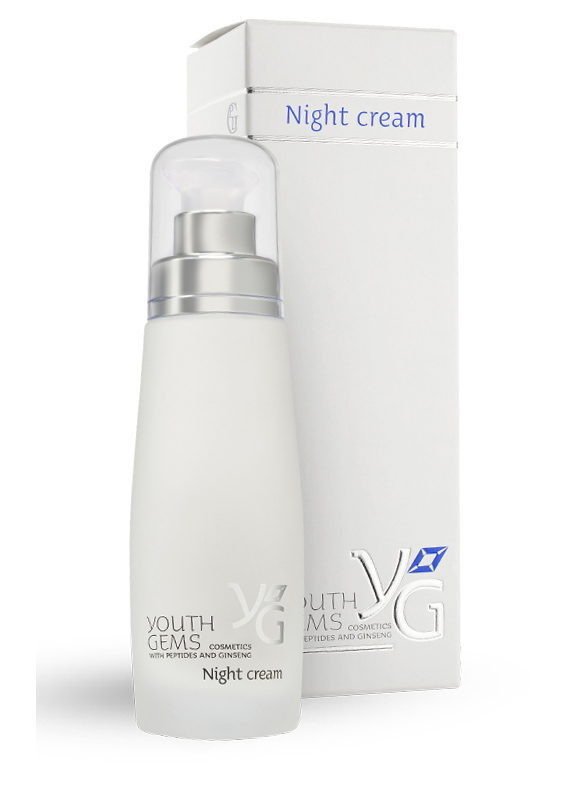 Youth Gems® Night Cream
£55.99
50ml Cream 
A face and hand cream that helps to improve blood supply for a more elastic, compliant skin condition and youthful glow.
No animals are used in the testing of any Youth Gems products.
SHIPPING TO AUSTRALIA AND NEW ZEALAND HAVE BEEN TEMPORARILY SUSPENDED DUE TO ISSUES WITH ROYAL MAIL, WE HOPE THIS WILL BE RESOLVED NEXT WEEK
To ensure your package arrives before Christmas, the cut off date is: 06/12/23 
Out of stock
Description
Action:
Provides intense nutrition of the skin cells due to peptide complexes of
thymus, vessels, cartilages, pineal gland, bioantioxidant complex Neovitin®
made of ginseng cellular biomass, argan and soya oils;
Thymus peptide, bioantioxidant complex Neovitin® and jojoba oil being cream
ingredients restore natural protective skin barrier;
Peptides of thymus, vessels, cartilage, pineal gland in combination with
bioantioxidant complex Neovitin®, peony extract, argan oil, raisin-seed and
jojoba oil stimulate and increase the activity of skin cells, accelerate their
regeneration that results in improvement of complexion, reduction of vascular
patterns, skin radiance and elasticity;
Combination of several active ingredients — peptides of thymus, vessels,
cartilage and pineal gland, bioantioxidant complex Neovitin®, argan oil, jojoba
oil and raisin-seed oil — diminishes negative traces of environmental factors
on the skin, contributes to physiological restoration of its basic structural
elements and helps to slow down skin ageing.
Ingredients:
Aqua, Glycine Soja Oil, Steareth-21, Steareth-2, PPG/PEG-4/14 Dimethicone, Potassium
Cetyl Phosphate, Cetearyl Alcohol, Panax Ginseng Cell Culture Extract (Neovitin®), Olea
Europaea Fruit Oil, Simmondsia Chinensis Seed Oil, Vitis Vinifera Seed Oil, Paeonia Extract,
Stearic Acid, Palmitic Acid, Ethylhexyl Cocoate, Phenoxyethanol, Ethylhexylglycerin,
Triethanolamine, Benzisothiazolinone, Methylisothiazolinone, Citric Acid, Butylated
Hydroxytoluene, Argania Spinosa Kernel Oil, Bisabolol, Parfum, Thymus, Cartilage, Vessels
and Pineal Gland Peptide Complexes, Hexyl Cinnamal, Limonene, Butylphenyl
Methylpropional, Linalool
Reviews
This product doesn't have any reviews.
Leave a review
Only logged in customers who have purchased this product may leave a review.