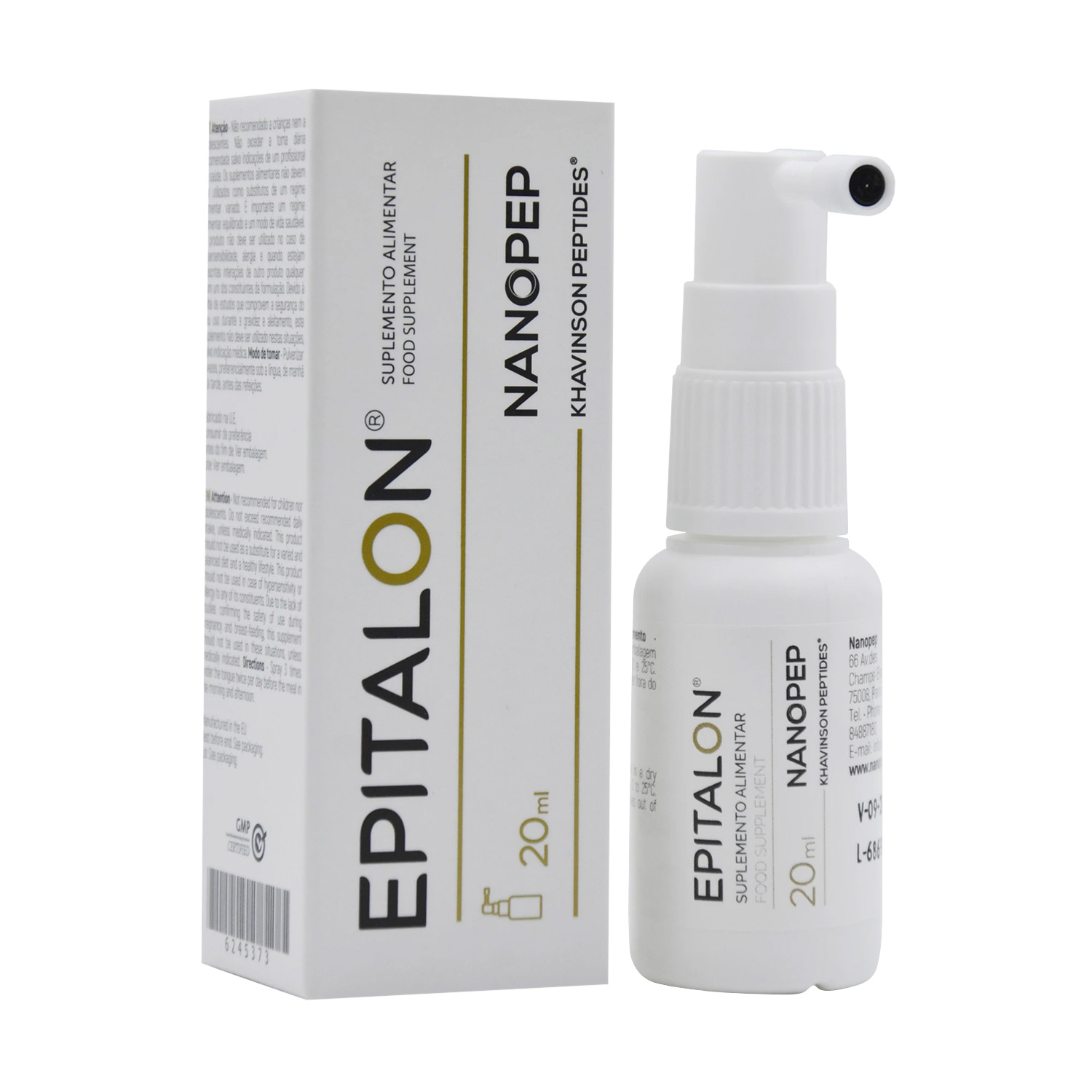 Epitalon® – Sublingual Pineal Bioregulator
$69.99
Epitalon works to:
Normalizes level of melatonin
Adjusts circadian rhythms
Reduces insomnia
Prevents travel fatigue and jet lag
SHIPPING TO AUSTRALIA AND NEW ZEALAND HAVE BEEN TEMPORARILY SUSPENDED DUE TO ISSUES WITH ROYAL MAIL, WE HOPE THIS WILL BE RESOLVED NEXT WEEK
In stock
Description
Ingredients: water; Preservatives: Sodium Benzoate, Potassium Sorbate; NanoPep complex (Alanine, Glutamic acid, Aspartic acid, Glycine).
Directions: Spray 3 times under the tongue twice per day before the meal in the morning and afternoon.
The daily amount of Epitalon is 0,5 mg (500 mcg) in 6 sprays (daily dose). In 1 spray it is about 83 mcg of Epitalon.
Storage Conditions: Store in a dry place and at temperature from 2 to 25°C. Protect from heat and light. Keep out of reach of children.
Composition (mg) per 6 pulverizations (1ml):           % NRV (*)
NanoPep complex:                           0,500
Alanine                                             0,125                        **n.d.
Glutamic acid                                  0,125                        **n.d.
Aspartic acid                                   0,125                         **n.d.
Glycine                                             0,125                         **n.d.
*NRV/: Nutrient Reference Values (Regulation (EU) No 1169/2011)
**n.d. not defined
Suitable for vegetarians and vegans.
Attention:
Not recommended for children or adolescents. Do not exceed the recommended daily intake, unless medically indicated.
This product should not be used as a substitute for a varied and balanced and healthy lifestyle.
This product should not be used in case of hypersensitivity or allergy to any of its constituents. Due to the lack of studies confirming the safety of use during pregnancy and breast feeding, this supplement should not be used in these situations, unless medically indicated.
Reviews
This product doesn't have any reviews.
Leave a review
Only logged in customers who have purchased this product may leave a review.